I love attending AFP's International Conference on Fundraising.  I'm always amazed at the new things I learn and I'm thrilled with the impressive new friends I meet.  At the 51st Annual Conference in San Antonio, I've already met some of the most fascinating people — one of whom I met even before we got out of the airport!  Let me introduce Jacklyn Chaney of the Regional Food Bank of Oklahoma. She has been serving as the Manager of Leadership Annual Gifts for 6 months and came to the conference this year with hopes of meeting more fundraisers from Oklahoma (check!). One of her other goals in attending is to learn new strategies on raising larger gifts for the food bank (check, check!).
Another interesting new friend is Samir Elbassiouny, Foundation Executive Director and Executive Assistant to the President for Advancement at Warren County Community College Foundation. Samir became the foundation's executive director six years ago after a successful career as a restaurant owner. He came to the United States from Egypt at the age of 15 and his career path has been anything but predictable — truly another remarkable new friend, with a great story, from AFP.
If you're in San Antonio with me right now, play along with our giveaway:  Where's Kent!  If you locate me anytime, anywhere during the AFP International Conference – let's trade business cards!  You'll be entered in our drawing for one of eight BIG prizes. Find all the details on my blog post Where's Kent?
And don't forget — I'd love for you to join me at 9:30 a.m. while  Pam Witter and I are speaking on 5 Strategies to Increase Your Annual Fund Revenue. Hope to see you there!
Sincerely,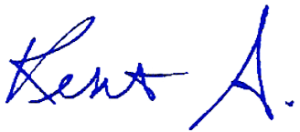 Kent Stroman, CFRE
America's ASKing Coach