Were you ever called in to the principal's office when you were in grade school?
It's okay, you don't have to answer that… 😉
But, if it happens again, now that you work for a school, I suggest bringing my friend Linda's book with you!
Linda McNay's years of experience raising money for schools makes her the perfect person to write Fundraising for Schools: 8 Keys to Success Every Head of School Should Know. I am so glad she wrote this book. Recently, I was able to interview Linda to dig a little deeper into the subject. I hope you enjoy hearing directly from her on a topic she is passionate about!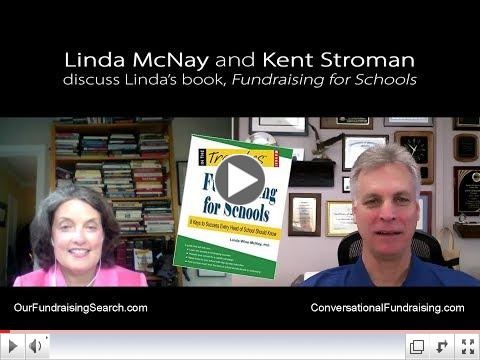 This is a hugely valuable resource, and I can't recommend it highly enough. Even if you aren't working for a school, you should consider letting a superintendent in your community know about Linda's book. It is filled with great information about how schools can achieve incredible success fundraising!
Until next time,
Kent Stroman
America's Asking Coach
PS: If you work in one of the following specialized areas, a church or a museum, Linda has two other books just for you: Fundraising for Museums  and Fundraising for Churches.