I can't wait to share with you a great cultivation call one of our Asking Academy participants had recently! Here is Tony's* version of the story:
"I wanted to share a little bit about a success I had with a major donor late last week. I went to meet with him with the thought of really enhancing our relationship and not asking him for a gift.
Our one hour lunch turned in to two hours as we moved through a few of the questions on the 10 Step Staircase. My favorite part was when I asked him "Where did you learn to give?" His answer took 20 minutes and gave me a glimpse of the heart of a man that is very generous for the right reasons. My sense was that few people if any have ever asked this man what motivates him.
He committed to a very large gift for our organization, for starters, and asked to meet again soon.  More important than that, I am pretty sure I have a great new friend for life. That, my friends, is more valuable than gold."
During one lunch meeting, Tony discovered that Conversational Fundraising is about much more than seeking gifts to fund your mission. It's about building lasting relationships and honoring the heart of the donor. Thanks, Tony, for your encouraging testimony!
Your friend,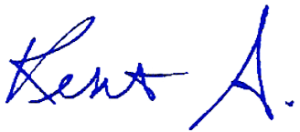 Kent Stroman, CFRE
America's ASKing Coach
*Name has been changed