"Where do we start?"
I get asked that a lot when it comes to annual fund strategy.  The annual fund can be a challenging part of the fundraising plan, but if you have the right strategy in place, it can be a huge benefit for your organization.  Here are three tips you can use as you work on your 2016 annual fund strategy.
Tip 1: Balance the plan on the calendar
Oftentimes, we don't have a plan when it comes to the annual fund.  We just repeat this year what we did the last, even if it isn't the most effective.  Create a comprehensive plan, and make sure that what you're doing is coordinated with everyone who needs to be involved.  Put everything on the calendar, and see where there are overlaps and gaps, either too many or too few donor contacts.  An annual fund plan helps an organization analyze and maintain a degree of balance for the overall operation.  Getting it on the calendar is a great first step to making sure the plan happens!
Tip 2: Balance the plan among constituents
The idea here is that organizations typically focus annual fund efforts on one segment of the donor population: large numbers of people making smaller gifts.  That's a good start, and each and every gift matters, but it's important to include strategies that focus on smaller numbers of donors who are capable of larger sized gifts.  Keeping that balance should be a key part of your plan.  Also, be sure to think of generational givers. Does your plan include ways to include Generation X and Millennials in addition to reaching the Builders, Boomers, and Busters?
Tip 3: Keep balance by being disciplined
Work the plan!  Have the discipline to see your plan through to the finish.  Any changes that need made should be addressed and calculated for next year, but don't panic and fall off the plan because of a few obstacles along the way.  Your discipline will yield results!
I recommend this great resource as you work on your annual fund plan.  My friend Linda Lysakowski wrote "Fundraising for the Genius" and I think it can be a valuable asset to your team.  You can learn more about Linda and all of her other great books here.
Sincerely,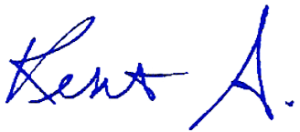 Kent Stroman,
America's ASKing Coach
PS:  There's no better time to create your annual fund plan than today.  If we can assist or point you to someone else to take your annual fund to the next level, email me now!