This month marks a huge milestone for the Institute for Conversational Fundraising.  Just one year ago we held our very first SUMMIT.  I can still feel the buzz of anticipation…and apprehension…that preceded those two jam-packed days.
It has been so exciting to watch those first participants go out and truly transform their fundraising approach.  Each one has become an inspiration to me!
The past year has been a time of refining the Asking Academy experience.  It has been our good fortune to serve numerous charities, equipping their leaders to raise money like never before.  I have been privileged to meet the most dedicated and proactive people.  So last week, right in the middle of SUMMIT #4, we took a break to celebrate.  Everybody loves a party and we had a blast together – I wish you could have been there.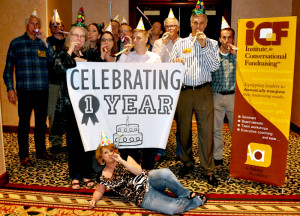 It has been a wonderful year, and I am even more excited about what's ahead.  We've scheduled more Asking Academies to equip more people with more tools to become more effective as they raise more money.
I look forward to sharing more success stories from more Asking Academy graduates.  Perhaps you'll be one of them.  Or maybe you know someone else who will.  Please pass this note along to someone who'll thank you for the tip.
Jim Rohn, America's foremost business philosopher, points out that "success is something you attract by the person you become."  The core of what we accomplish through the Asking Academy is helping people become success magnets.  I'd love to do the same with you.
Sincerely,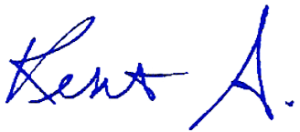 Kent Stroman, CFRE
PS:  Can you envision a bright future for your organization?  Want help making it become a reality?  Let's make a place in the next Asking Academy for you.  Call today to find out how you can get started.