"It's the most wonderful time of the year!"  I'm sure you remember the song, and I couldn't agree more.
This is such a busy time of year that I hate to send one more email, but…..
The response to our Christmas Comes Early promotion has been so great we are extending the deadline until January 5, 2015 (I guess I'll have to start calling it a Celebration of Christmas Past!).
Anyhow, if you're interested here's how it works:
Book any of our services between now and January and we'll reduce the fees by 10%!  How's that for a holiday sweet treat?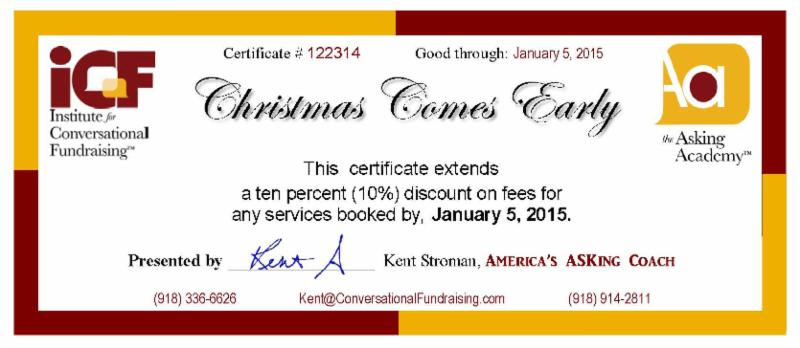 This applies to all of our services including:
Seminars
Keynotes
Workshops
Board retreats
Team workshops
Feasibility studies
Strategic planning
Executive coaching
Major Gift programs, and even
The Asking Academy™
Your friends and colleagues have already opted in and saved thousands of dollars.  Care to join them?
If so, simply call Kathy Wright at (918) 214-4321or me at (918) 914-2811.  We'll 'bend over backwards' to help you achieve your goals for next year.
In the meantime, let me wish you and those closest to you the happiest of holidays!
Sincerely,
PS:  The same offer applies to services booked with Stroman & Associates also.  Don't miss out!