When my publisher asked me to reach out to my colleagues, peers, and leaders in the field for pre-publication reviews of The Intentional Board, I couldn't have imagined the uplifting feedback that would follow.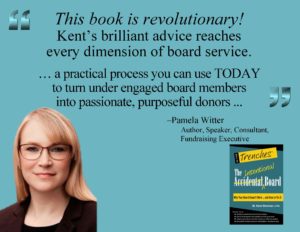 I'm sharing these reviews, one at a time, as an expression of my gratitude for the generous support of these friends.
"This book is revolutionary!  Kent's brilliant advice reaches every dimension of board service.
My favorite section cuts to the chase with a practical process you can use TODAY to turn underengaged board members into passionate, purposeful donors who give without hesitation and inspire others to do the same. 
I want a copy for every one of my board members!"
Pamela Witter
Author, Speaker, Consultant, Fundraising Executive
Thanks, Pam, for your support, encouragement, and friendship!
Your friend,
Kent Stroman, CFRE