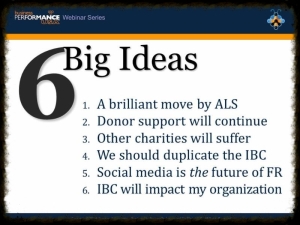 Tuesday's webinar, "Myths, Mysteries and Marvels of t he ALS Ice Bucket Challenge" was a blast!
Kathy Wright and I had a great time debating 6 big ideas about the challenge.  The audience participated with questions and by casting their votes in six polls.  What fun!   
To hear our thoughts and recommendations for your use of social media in fundraising, you'll want to check out this webinar.
Enjoy!
Sincerely,