Have you ever pondered what stands between you and your greatest aspirations? I have, and lots of others have too. My work in fundraising has put me in a place of exploring these obstacles in a deliberate fashion. Let me explain …
After the release of Asking About Asking, while speaking at conferences and seminars all across the country, I began to hear a theme from dedicated fundraisers – volunteers and professionals alike. They found their success limited by a variety of issues which were holding them back. So I posed this question: "What is your greatest obstacle to successful one-on-one fundraising?
"The hundreds of answers I received were varied and incredibly insightful. My team and I sorted through the responses and eventually identified thirty-three categories into which every answer fit. Among others, these topics include …
Prospect Identification
Getting the Meeting
Relationship Deficit
Mindset
Fear
Today I've chosen to address one of the most paralyzing obstacles to success – fear. At a certain level we all encounter fear when pursuing our highest dreams and goals. But what exactly are we afraid of? For most it comes down simply to a fear of the unknown. This can be clothed in fear of rejection, fear of being under-prepared, or countless other varieties, but it all relates to apprehension about the unfamiliar. Perhaps you can sympathize with those respondents. I can!
So, let me to share a thought for overcoming this pesky obstacle. First, shift your focus away from what is unknown and retreat to the familiar. When meeting with prospects, talk about what you do know. Your organization is doing great work, so focus on that. You may not know every little detail about every program, but you do know the major priorities and goals your group addresses. Focus there and find out which of your priorities are in line with the donor's passion.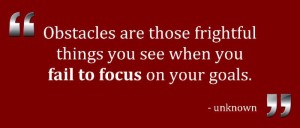 Fear of the unknown is natural and cannot be avoided, but don't let it cripple your fundraising efforts. Focus on what you do know, and let that form the basis of your future success.
I'll be addressing other obstacles in future posts and hope you find these tips helpful as you pursue your goals.
Overcoming with you,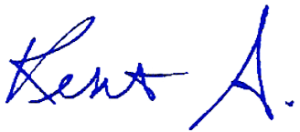 Kent Stroman, CFRE
PS:  If you find other obstacles standing in your way, give me a call.  Let's talk about ways to overcome them.