I'm passionately dedicated to helping individuals and organizations achieve their full potential.  For decades now, I've taken a special interest in board practices that set the great organizations apart from the rest.  Today I'm focusing on something big: Thanking board members.
Your board members deserve to be thanked.  Regularly.  Why?  Because diligent, faithful volunteer service is certainly something to be celebrated!  We all know common courtesy calls us to thank others for doing something that they didn't have to do.  Your board members are giving one of their most valuable resources, their time, to support your organization.  It's important to ce
lebrate their generous contribution.
Make it your goal to thank your board members for their service.  Here's one easy, practical, concrete way to say "Thank You."
Do something small and fun!
Thanking board members doesn't have to be a big, expensive task.  Everyone likes to be appreciated, even in small ways.  If your board has an evening meeting, consider ending the meeting with ice cream sundaes or root beer floats.  Little expressions go a long way in making volunteers feel appreciated and valuable (which they are!).  Sincere acts like this tell others they are important.  It's not something you have to do, but when you do, everyone feels good about it.
I often repeat this quote, "Whatever we praise, recognize, and reward, we will see more of."  As you show board members appreciation for what they do, others will be eager to do the same.
We've covered why and one way how you can thank your board.  Next month I'll share another practical tip and we'll talk about who is responsible for saying 'Thanks.'
Until then, try doing something small and fun to show gratitude to your board.  I'd love to hear how it goes.
Sincerely,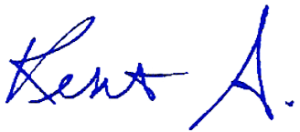 Kent Stroman,
America's ASKing Coach
PS:  Want more best board practices?  Stay tuned for additional tips to transform the way your board functions!